EDIT MAIN
Brandon Ward
Principal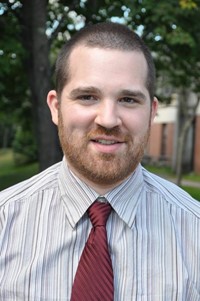 On behalf of the students and staff at Bath Middle School I would like to welcome you to our school's website. Bath Middle School is a 6-8 school with just under 375 students. Each grade level consists of two teams of teachers who work, closely, to provide positive, challenging, and meaningful learning experiences for our students. Bath Middle School is an Expeditionary Learning and Restorative Practices school.
In EL schools learning expeditions are the primary way of organizing curriculum. The subject matter of a learning expedition is a compelling topic derived from content standards. Learning expeditions feature linked projects that require students to construct deep understanding and skills and to create products for real audiences. Learning expeditions support critical literacy, promote character development, create a sense of adventure, spark curiosity and foster an ethic of service. For more information about Expeditionary Learning Outward Bound go to www.elschools.org
The fundamental premise of restorative practices is that people are happier, more cooperative and productive, and more likely to make positive changes when those in positions of authority do things with them, rather than to them orfor them. Restorative practices include the use of informal and formal processes that precede negative behavior, those that proactively build relationships and a sense of community to prevent conflict and wrongdoing. Restorative practices can develop better relationships among students and staff and help the school function more effectively. Restorative practices has been shown to reliably reduce misbehavior, bullying, violence and crime among students and improve the overall climate for learning. For more information about Restorative Practices go to http://www.safersanerschools.org
Through a collaboration of faculty, staff, parents and community members the mission of Bath Middle School is to:
ensure a safe, nurturing, and positive environment where all our students have the opportunity to succeed;
achieve and maintain academic excellence;
meet the developmental needs of diverse learners;
challenge students to develop academic, technological, and critical thinking skills for life long learning;
enable students to become contributing members of society, and
promote respect and appreciation for cultural differences.
For more information about our school, please explore this site or contact us at 443-8270.

Sincerely,

Brandon Ward
Principal
Bath Middle School